By: Saige Miller
Jennifer Aniston is taking the Instagram world by storm. Because… well… she finally joined the photo-sharing platform! Fans were so excited about the 'Friends' actress depute on Instagram, it actually broke the app.
Aniston claims she didn't mean to break the app, but could you blame her for doing so?
Her digital footprint on the app resulted in Aniston breaking the Guinness World Record for the quickest profile to gain 1 million followers. The 'Friends' actress had 1 million people invested in her online life in 5 hours and 16 minutes, beating Meghan Markle and Prince Harry.
To make matters even better, Aniston's first photo was of the whole 'Friends' gang back together.
View this post on Instagram
The 'Friends' fam is back together, looking better than ever! Which begs the question? How is the Rachel Green and Ross Geller romance going? Did they ever settle the feud? We're they on a break?
So, a brave Instagram follower, who just happened to be former Bachelorette Kaitlyn Bristowe, pitched the question to Aniston…
"ARE YOU AND ROSS STILL TOGETHER!!???"
Jennifer Aniston did 'Friends' fanatics a solid when she casually dropped the relationship status between Racheal and Ross in the Instagram comments of the reunion photo.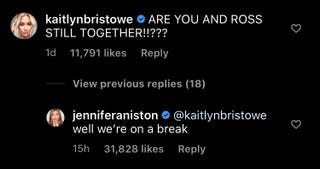 "Well we're on a break," reads Aniston's response.
Rachel Green's comment rattled the 'Friends' fanbase, gathering over 31,000 likes!
Popularity isn't the reason why Aniston hopped on the platform. Aniston announced on 'Jimmy Kimmel Live' Wednesday she was "the most reluctant person to ever join Instagram."
So, Kimmel asked her why she was giving in to social media peer pressure.
"I don't know," Aniston responded. "What you resist persists so what the hey?"
Welcome to the Instagram universe, Jennifer Aniston! the Instagram universe has definitely welcomed you!